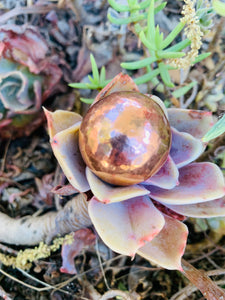 3.5" Circumference 
Copper is considered a feel better stone that boosts the flow of chi. It brings good luck and vitality, especially with lost property. It is good for emotional balance and helps over-excitability. It is said to attract abundance, prosperity, and money.
Copper stimulates energy flow and enhances psychic abilities. It's an energy conductor that will move energies and amplify your thoughts. It helps in channeling and communicating with higher dimensional beings. It can also ground and move vibrational frequencies from the spiritual realm to the physical realm.
Emotionally Copper helps you to release anger and resentment that you may be holding onto. It will increase your ability to express yourself and accept your true emotions. It will encourage you to take more initiative in your financial pursuits. It will make you more optimistic about your prospects and give you a sense of independence when it comes to making your own decisions.
Copper is connected to the Sacral Chakra and is most powerful for Taurus ♉️ and Sagittarius ♐️ signs.