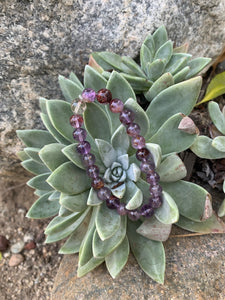 Super Seven is a combination of seven beautiful stones making for a powerful crystal. So not only does it have the power and energy of one crystal, it combines the energy of all seven crystals. It's said to have a vibration that links up all of humanity and can help to raise the vibration of the planet.
Super Seven helps you in developing your psychic abilities and harnessing your inner power, assisting you in bringing out your innate talents and gifts. It will connect you to higher guidance and your angels and spirit guides. It brings about spiritual connections, offering support, and assistance on your journey. It boosts the aura and helps you to see auras. It encourages the advancement and fulfillment of dreams, goals, and ideals. It is connected to Karma, love, harmony, peace, past lives, and reincarnation. It is good for clairaudience, clairvoyance, creativity, telepathy, and Earth healing.

Super 7 is connected to all Chakras and all Zodiac signs.